Success Stories
"We have a tendency to stick with a system that works, even if it doesn't work great… This is light years better in terms of ease."
— Margaret Holes,
Spelman Johnson
Testimonials
— VP, Production Global Broadcast Network, Cartoon Network
After merging a few of our network's departments, we found everyone was tracking projects differently and using different systems. Therefore, we didn't have an accurate snapshot of what our group was producing. Gearbox Solutions brought everyone into the Filemaker solution they built for us – Mesmo – and updated it so we get a true snapshot of the workflow for our entire department. Now we can run reports that show what people are working on, the volume of work at any point, and produce comparative analyses from year to year. Tracking allows us to measure where we are growing, where we're seeing decline, whether we're maximizing the output of our staff and whether we're allocating resources intelligently. The data is now easy to access and gives us an accurate measurement of our department's output at any given time. The depth and the robustness of Mesmo goes way beyond our department. It's integral to how we, as a network, operate. It's how we turn in finished promotions to the network operations center. If we're creating an on-air promo, we put all the versioning into Mesmo and track the project. Everything is self-contained in one place. The information is easy to find and Mesmo allows us to have an efficient and effective work stream. Gearbox has continued to upgrade and improve the system as our needs change. It's integral to our operations and has really been worth the investment. Gearbox also helped when I found that we had no way to keep track of staff when they were out of the office. People would be out on shoots or vacation or at a conference, but there was no record of it. It became disorganized, frustrating, and confusing. Gearbox built an out-of-office calendar solution that all our departments now use. It shows daily where everyone is or plans to be, requests for personal time off (PTO), and how many PTO days each person has. I know where people are each day and I can plan ahead to make sure we always have coverage. One click, and I get the records that I need. It's very efficient. I recommend Gearbox all the time to others. They make things very easy to use. They're a really strong, problem-solving company that can help you with how your workflow is managed and tracked with a highly personalized approach. You give them a clear understanding of your problem, they'll provide a solution quickly that satisfies your immediate, short-term needs and, more importantly, make it adaptable in the long-term.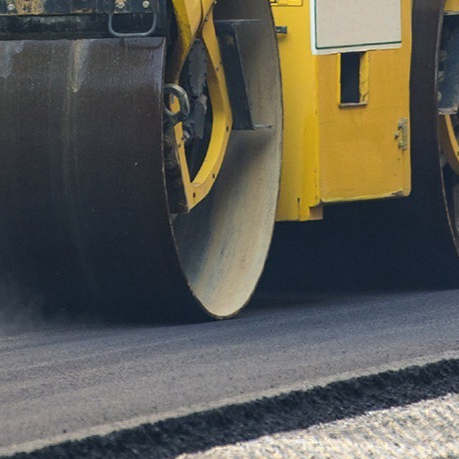 — Andrew Thomann
Owner & Operations Director, Thomann Asphalt
Gearbox Solutions is excellent to work with. Their level of expertise on all things technology are top notch. They have been building a custom software solution for our construction business over the last 2 years. I would highly recommend to anyone in need of software maintenance, improvements, or a compete overhaul. They are extremely easy to work with and work very hard at making sure you are happy with the outcome.
Gearbox has been the best thing that has happened to my 27-yr—old business. I have known Marty, one of the owners of Gearbox, for over 12 years, and I have to honestly say that because of Gearbox and what Marty did, my business started snowballing. I am very grateful to everyone at Gearbox (Megan, Sanjiv, and many more) that have partnered with AGC over the years. They know all details surrounding my company, and I can always rely on Marty's judgment and advice. His visionary approach to enhancing and updating our IT needs only matches my desire to stay ahead of the market and be the best in serving our customers. In short, Gearbox changed my ordinary company to one that is efficient and very successful.
— Marco DiCarlo
President, Finished Art
Our company has had a longstanding personal relationship with the Gearbox Team. We work closely with them on a daily basis for all of our technical needs. This includes general support, recommending and implementing upgrades to our infrastructure, and helping us develop custom applications or recommending cost effective alternatives that meet all of our business needs. We work with high profile clients that demand a quick turnaround on our services, which also requires Gearbox to be incredibly responsive when a need arises, and they consistently deliver with a high degree of professionalism. One of the best aspects of their team is they always have an upbeat attitude, matched with the skills to solve anything we throw their way. Marty and the rest of the Gearbox crew truly are an integral part of our work family and we highly recommend them for your technical support and development needs.
— Sr. Vice President
Broadcast Division, Turner Broadcasting
We had a difficult time tracking budgets accurately, getting actuals at the end of projects, and managing session scheduling and booking. With the volume of work we create for all our on-air and digital projects, we need to have all the information easily available to deliver projects on time and on budget. Gearbox Solutions built us a streamlined project management tool so we have the information we need at our fingertips, all in one place. Our creatives are able to easily request their sessions, find their tape logs and assignments, and clearly see due dates. We can track assignments and see if they've been delivered. We've used this tool every day for 10 years and it still works exactly how we need it to. Over the years, Gearbox has added enhancements, such as the ability to regularly reconcile our actuals with our accounting solution so that we don't have to do any manual entry. The time savings alone has made it worth the investment. By providing everything in one tool, it reduces the number of steps and saves us from juggling multiple programs. Team members are able to jump in, do their work, and move onto the next task without being slowed down by the system. Unlike other tools we've used, Gearbox builds us solutions that are very user-friendly and easy to understand, with a clean interface that doesn't get in the way. That simplicity is so important with our creative teams, who usually have a resistance or a fear towards new tools. We find our creatives very quickly get over the hump of learning how to use what Gearbox has built for us. One of the key features that Gearbox recently added is the integration with the SAP product we use. It's now quicker and easier to be able to reconcile invoices and we can immediately see by project whether an invoice has been paid or remains outstanding. Even though the SAP was a closed system, Gearbox was able to work with the company to develop a method to integrate it. I'd recommend Gearbox to anyone in the creative industry. They listen to you, understand your needs, and build a custom solution that is easy to work with. They understand FileMaker in and out, better than anybody we've ever encountered. On top of that, they provide excellent support. They have always been responsive to our growing needs and quickly resolve any issues we experience. We love working with Marty and his team.